At 12:30am on March 25th, 2011, I was standing around in a diner. My date was a few minutes late. He'd told me a few times that he didn't think I actually wanted to meet him, but it was mostly schedule conflicts. We'd met on OKCupid in early January and dates had been half-planned and then cancelled a few times. He was sure I didn't want to meet him. I forget who asked who to the diner, but a couple of minutes after 12:30, he walked in. He looked so grumpy, but he smiled when he saw me. We sat in that diner until the breakfast rush started and the manager asked us if we'd move to the counter. We left instead and wandered around...neither of us wanted to say goodbye. We came back to the diner parking lot around lunchtime. He had to work that afternoon and I needed a few hours of sleep before work that night. We still couldn't say goodbye. We sat in his car, then kissed in his car, then finally said goodbye...almost fourteen hours after our date started. He's the best man I've ever met and I love him so much! We went back to that diner to celebrate our anniversary last night. It's been two years today, but I feel like I've known him forever.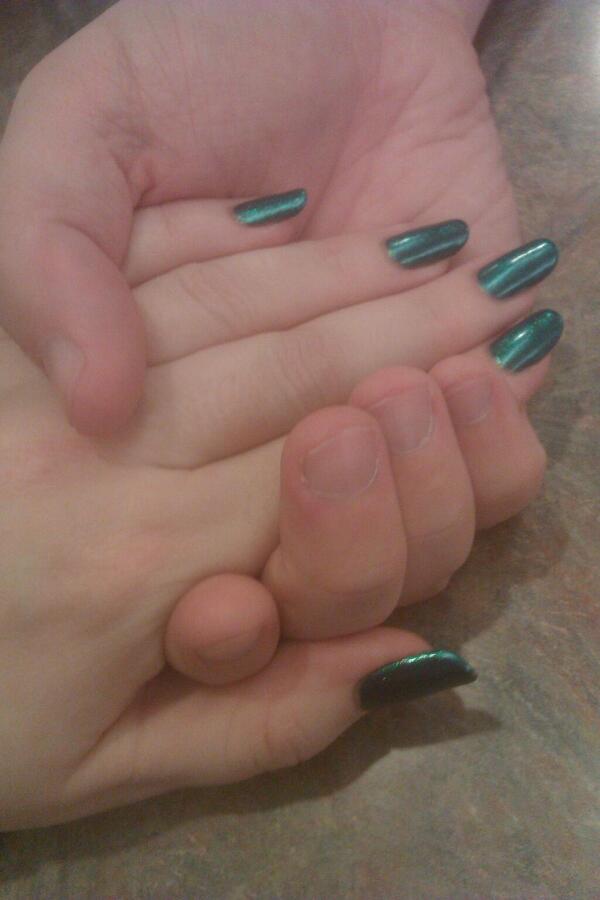 Please excuse his cuticles
He says Vikings don't get manicures
He doesn't care about polish at all, but he's good enough to give me the guy opinion when I need it. A lot of girls wear their guy's favorite color or favorite polish on their anniversary, but that's not an option here...so I was a little stumped. I asked the girls over at the
MakeupAlley Nail Board
for help, and PinkQueen suggested I should wear FingerPaints Late Night Rendezvous. She picked well!
Late Night Rendezvous is from last year's Summer In The City collection. If you see it in a blog sale somewhere or happen upon it in a Sally Beauty clearance bin, get it! It's got a gorgeous blue foil finish and the formula's good. This is two coats over the nude I was already wearing, but it doesn't need a base. It's amazing mattified!
I was sick last week, so I'm a bit behind on my spring swatching. The good news is...I finally found *my* nude polish! More on that soon!